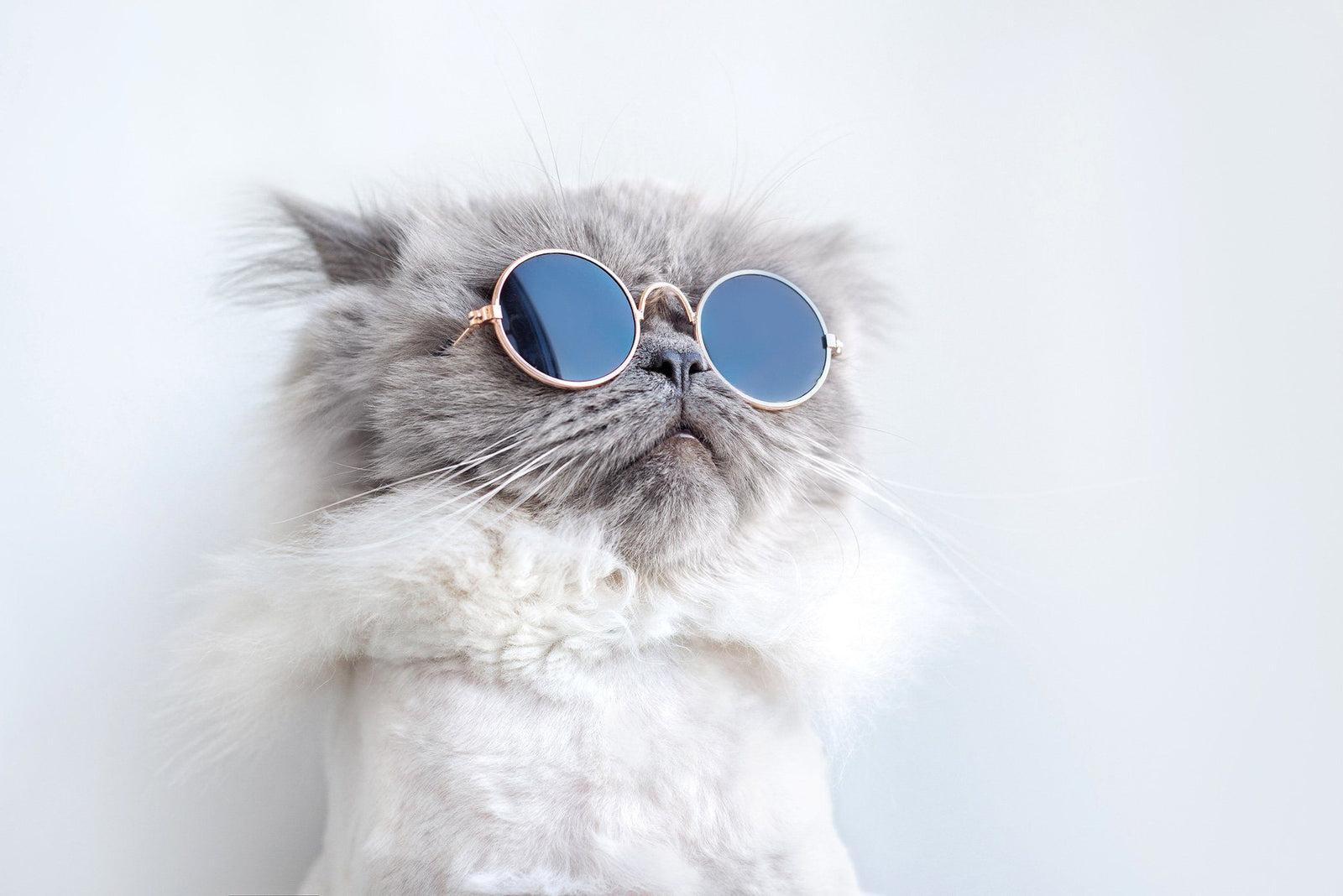 Cats take over our homes, our beds, and... our playlists. Countless artists have recorded cat songs over the years and we're gettin' jiggy with it.
From Elton John to Tom Jones, feline tunes are everywhere. Some of them are actually about cats; some simply use coy kitty phrasing to talk about love interests and other relationships. Whatever the reason, we love 'em!



As warmer weather is moving in, it's time to stock up on sunscreen, pool floats, and the sweet songs of summer — or of kitties.
Here are a few fun feline favorites to round out your summer playlist.


Girls Just Wanna Have Cats
Cyndi Lauper, the pop princesses of the 80's, recorded a couple of upbeat cat songs that are sure to have you dancing in your leggings (and leg warmers – we won't judge).


Like a Cat
While Cyndi may be best known for her hit "Girls Just Wanna Have Fun," in "Like a Cat," she sings (and purrs) about how she only ever let her ex love her like a cat — you know, in a guarded and untamed way.
Hey mister you can never own me
I only let you hold me like a cat
"Like a Cat" perfectly captures how your fur friend often seems to own you more than you own it. If you've ever wanted your cat to love you more than she does, maybe you can relate to Lauper's ex in the song.


Opposites Attract
The music video for this song by Paula Abdul and her hip animated feline friend, MC Skat Kat, was an 80's favorite. The video features exciting dance numbers with Paula and the animated cat singing about how opposites really do attract.
She makes the bed
And he steals the covers
Paula Abdul and James Corden's remake of the video is worth a watch, too. As wonderful and nostalgic as the classic animation in the original, Corden's MC Skat Kat outfit and his dance with Abdul is a sight to behold.



Tomcat Tunes
The ladies aren't the only ones recording great feline tunes. There're plenty of men who've also put out some amazing kitty singles.

Delilah
In Queen's song "Delilah," Freddie Mercury sings about what we already know to be true of our fur babies.
You get away with murder, so innocent
But when you throw a moody you're all claws and you bite
That's alright!
There's nothing quite like hearing Mercury's beautiful voice singing about how much he loves his cat. Anyone who has ever loved a cat despite all its quirks and strange behavior can relate to "Delilah."

Stray Cat Strut
If there was ever a love song written to cats, this tune by the Stray Cats might take the cake (or the catnip).
I wish I could be as carefree and wild
But I got cat class and I got cat style.
Whenever your cat's acting especially sassy, the lyrics to "Stray Cat Strut" may come to mind.
"Stray Cat Strut" is a must-listen for anyone who loves cats.

Less Sunny Songs
Just as not all summer days are sunny, cat songs don't always have to be upbeat and cheery. After all, who's moodier than your feline friends?
Let's look at a couple of dark horses (ahem, cats) for your more introspective summer moments.


Cat's in the Cradle
Who doesn't love a good ballad? These tunes make your heart swoon no matter how many times you listen on repeat.
"Cat's in the Cradle" tells a heart-breaking story of a dad too busy to spend time with his young son who then turns into a man too busy for his aging father. The song's story is relatable to anyone who's ever struggled to make time for their loved ones.
And the cat's in the cradle and the silver spoon
Little boy blue and the man in the moon
'When you coming home, dad?' 'I don't know when'
But we'll get together then
If you need to fill your kiddie pool with tears, this song's for you.

Yellow Cat
Another heartbreaking ballad, in "Yellow Cat" John Denver sings about a man who has been left alone with no one but his ex's yellow cat. Unfortunately, the cat can't fill the void in his life left by the end of his relationship.
The cat's no good for talkin' to
He don't know what I'm sayin'
And the rain is always playin' on my mind
Maybe Denver just didn't give the cat a fair chance. We think fur babies are excellent company.



Big Cat Songs
We can't forget the bigger felines of the cat world in our beach playlist. Just as artists and poets have captured lions and tigers in their work for centuries, musicians have written plenty of songs about these big, beautiful cats.

Eye of the Tiger
This 1980's hit by the band Survivor was the theme song to Rocky III and was commissioned by Sylvester Stallone. It earned the group a Grammy and an Oscar nomination.
It's the eye of the tiger
It's the thrill of the fight
Risin' up to the challenge of our rival
"Eye of the Tiger" doesn't just fit the theme of your cat-themed playlist. Few songs get you pumped up for summertime workouts as well as Survivor's hit. If you need some motivation to go for a jog, pop in your headphones, start "Eye of the Tiger" and let the music do the rest.

The Lion Sleeps Tonight
If "Eye of the Tiger" is the perfect song to get you ready for a workout, here's a song that will get you and your cat relaxed and ready to turn in for the night.
You may recognize the following lines from Disney's The Lion King when Timon and Pumba sing a cover of the song.
In the jungle
The mighty jungle
The lion sleeps tonight
The well-known lines from the 1961 song by The Tokens were adapted from a song titled "Mbube" that was recorded in South Africa in the 1930's. Its the purr-fect lullaby to wrap up your kitty song set.
Do you have a favorite feline tune in your playlist? Tell us which hits made your list in the comments below!


Web Accessibility