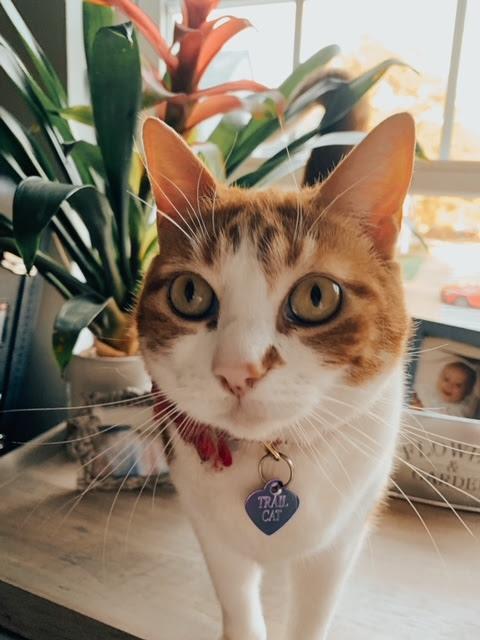 We talked to PrettyLitter subscriber Meg H. about meeting Trail Cat and here's what Meg had to say:
Yes, her name is Trail Cat!
One Fun Fact About Trail Cat:
I found Trail Cat while I was hiking through the Appalachian Trail! She licked my food bowl clean while I was sleeping. She didn't show herself until I was packed up and about to head out. She was the sweetest most loving cat from the start, despite having been in the woods for a long while, we later found out. 
Trail Cat and Meg H.
She hiked with me for a day (10 whole miles!) until I realized she might belong to someone and she might slow down my finish. I sent her to a no kill shelter where a month later I got to adopt her! The best trail magic ever and we were so meant to be. 
Trail Cat's Favorite Pastimes
Nuzzling her human while purring very loudly, taunting her dog brothers, trying to catch the laser pointer,  and being carried around like a baby.
Trail Cat's Most Mischievous Behaviors
Attacking my feet over the covers when I'm sleeping! 
If your cat could have one thing unlimited for the rest of time, what would it be?
Snuggles. All the snuggles and love from everyone!
You can follow Trail Cat at @tobyandtrailcat on Instagram!
Thank you for sharing your story, Meg and Trail Cat!