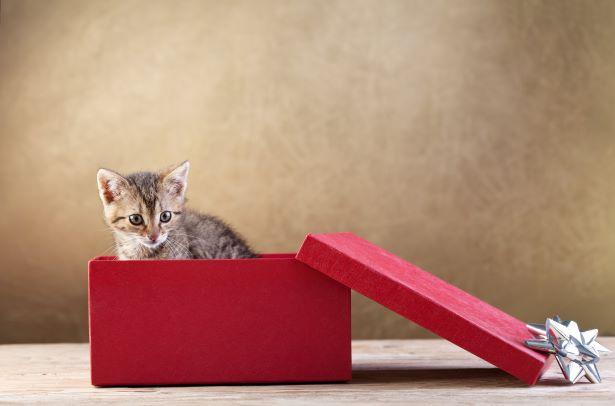 During the holidays, it can be oh so tempting to sneak a cute little kitten into a box and give it to your loved one. However, giving a pet as a gift isn't like giving a basket of
bath salts
or a gift card to the mall. If you're looking for gifts for cat lovers, you might not want to give an actual cat.
Reports
from January 2017 showed that "more than half of the pets given as gifts end up being returned." But who would want to return a sweet little kitten after bonding with her on the holliest, jolliest of days?
The sad reality is many people are unaware of the time commitment involved in being a pet parent. Parents who give pets as gifts to their children often find that once the New Year rolls around and the excitement wears off, they are the ones caring for the fluffy new addition – and often they simply don't have the time.
Newlywed couples and first-time homeowners are also common recipients of these well-meaning, adorable gifts. However, it's difficult enough to adjust to a major life change; when you add becoming a new pet parent to the mix, many gifted pets end up being re-homed or returned, which is extremely stressful for both the pets and the gift recipients.
If you're thinking about giving a pet as a gift this holiday season, there are a few things you should keep in mind.


Pet-Giving Checklist

Giving a pet as a gift can be a wonderful, thoughtful gesture, or a traumatizing experience. To ensure it's always the former, make sure your gift recipient can keep the pet and is well equipped to provide a great forever home.
Before giving live animals as gifts for cat lovers, run through this checklist to determine if it's a good idea or if the recipient on your list may be better off with something of the inanimate variety.
Has the person expressed a desire for a new pet on more than one occasion?

You should only consider giving a pet as a gift to someone who has been seriously considering the new addition.

Does the person have the space for a new pet?

Kittens may be small, but their big personalities and needs take up quite a bit of space.

Does the person have the financial resources to provide care for a cat?

We're not saying you have to go over their tax returns, but cats cost money and you'll need to use your best judgement. As a friend or family member, you likely know if your planned-gift-recipient has the resources to care for a pet.



Is anyone in his or her life allergic?

Pet allergies can be a source of serious heartbreak. If an important person in the cat lover's life is allergic, he or she may be forced to decide between the feline and the friend.

Does the person travel a lot or will they be home enough to care for a cat?

While cats are masters of solitude, they also require attention and affection. Make sure the person who will be caring for the cat is able to be at home enough to feed, water, play with, and clean up after a pet.

Does the person have young children?

While it's not a deal-breaker, many parents are uneasy about having a new pet in the same home as

an infant or small child

. Discuss this with the person casually before deciding to give a pet as a gift.


No Surprises

Lastly, giving a pet as a gift may be one of those rare times when you don't want the gift to be a surprise. Talk to the person or someone close to them to figure out if a live pet is the right move or if you should go with one of these other gifts for cat lovers.

Gifts for Cat Lovers

If you've come to the conclusion that maybe giving an actual cat isn't the right move for the cat lover on your holiday shopping list, there are some great alternatives.
If the cat fanatic in your life already has a menagerie of kitties, then the best gift may be something he or she can use everyday, like some fun cat toys or a few months of
health-monitoring kitty litter
.
Of course, if you really want to give the best gifts for cat lovers, there's nothing more rewarding and beneficial than gifting a donation in someone's name to
a great cat charity
.
How about you? What's the best cat-themed gift you've ever received? Tell us in the comments below or post a purrfect holiday pic on Instagram and tag us
@PrettyLitterCats
.
----
Don't forget to follow us on Instagram: @prettylittercats
----
Delivered straight to your front door, every month. We'll even pay your shipping.
For a limited time only, get 20% off your first PrettyLitter order. Enter code "LOVE20" at checkout. Redeem Now!