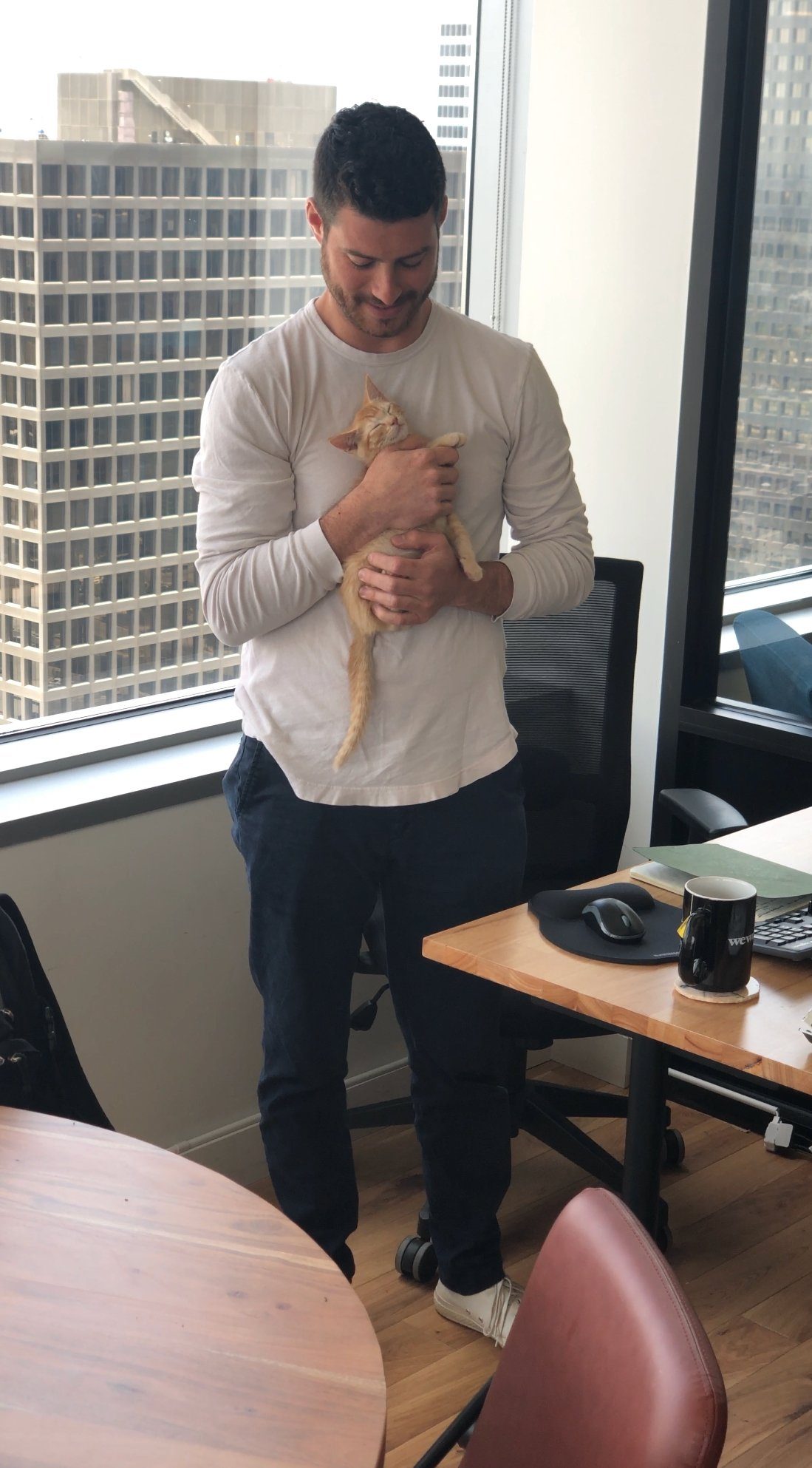 When is cat-Father's Day? June 17. It coincides with people-Father's Day, but we think the feline version is more fun.
All the best guys are cat fathers, so make sure to celebrate the male cat-lover in your life this season.
Here are our favorite Father's day gifts for cat guys this year.
Bonus points (and purrs) if you sign the card from the cat.


Wardrobe Upgrades
Guys are both the easiest and the hardest to shop for. Your options for gift ideas are limited, but guys rarely need or want much anyway. So this year, we're sticking with what we know the cat dad in your life will love: t-shirts.
Swing on over to the Tee Shirt Palace and grab dad a purrfect wardrobe enhancer in his favorite color. This Cat Dad t-shirt is a huge hit around the office or while hanging out with the guys. If the man in your life is more of a retro dude, there's also this excellent tie-dye option that's sure to get a thumbs up.
If you'd like to personalize your gift, Zazzle lets you work wonders at the click of a button. Start out with their adorable "World's Best Cat Dad" t-shirt design and add your own flare so Dad knows how much you and Fluffy adore him.


If the man in your life is a movie buff, he's undoubtedly a fan of the Godfather. Make him feel right at home with Francis Ford Coppola and the gang with this "The Catfather" iconic t-shirt.
To top it off, grab this adorable Parisian Pet "I Love My Daddy" cat t-shirt for your feline offspring and surprise Dad with a round of laughs and "awwww"s when he sees Fluffy in this awesome outfit.
Of course, contrary to what many men believe, a wardrobe isn't complete with just a collection of awesome t-shirts. To round out Dad's clothing needs, get him some great cat-themed ties for the days when he needs to look sharp. We love this business cat, this vintage print, and this hidden black cat.


Practical Presents

Does Dad drink coffee? We thought so. In that case, he'll love this mug that lets him sip while simultaneously bragging about his status as a cool cat dad. Win, win. Or surprise Dad with this custom message from the cat himself for an added fun twist. We also love this comic gem.
Another thing men always seem in short supply of: socks. Don't let Dad's feet get cold. These fun Paw Print Crew Socks will have Dad bonding with the cat on a whole new level.
What's more practical than a hearty breakfast to kick off the day? It's a solid foundation to the start of any productive day and you'll send Dad off to work with a smile when you serve up delicious eggs in this Cat Egg Mold.


Don't Forget the Card

A little bit of sentiment goes a long way. So when we saw this heartfelt card from the cat, our hearts just gushed. Who can't fall in love all over again with a critter who gives you a card that reads, "Thanks Dad for cleaning up my poo. I might not show it but deep down I love you!" That's certainly one card Dad will cherish for years, right?
Of course, if you'd rather at the cat's personal touch, you can do so easily with this Baby Safe Ink Print Kit. It's non-toxic, safe for infants and pets alike, and washes off easily so Fluffy won't track paw prints all over your house (as adorable as that might seem in theory, that's probably not the decor look you're going for).
Add your cat's paw print to a card, the back of a photo of her and Dad, or a simple piece of paper that you can decorate and frame for a sweet keepsake.