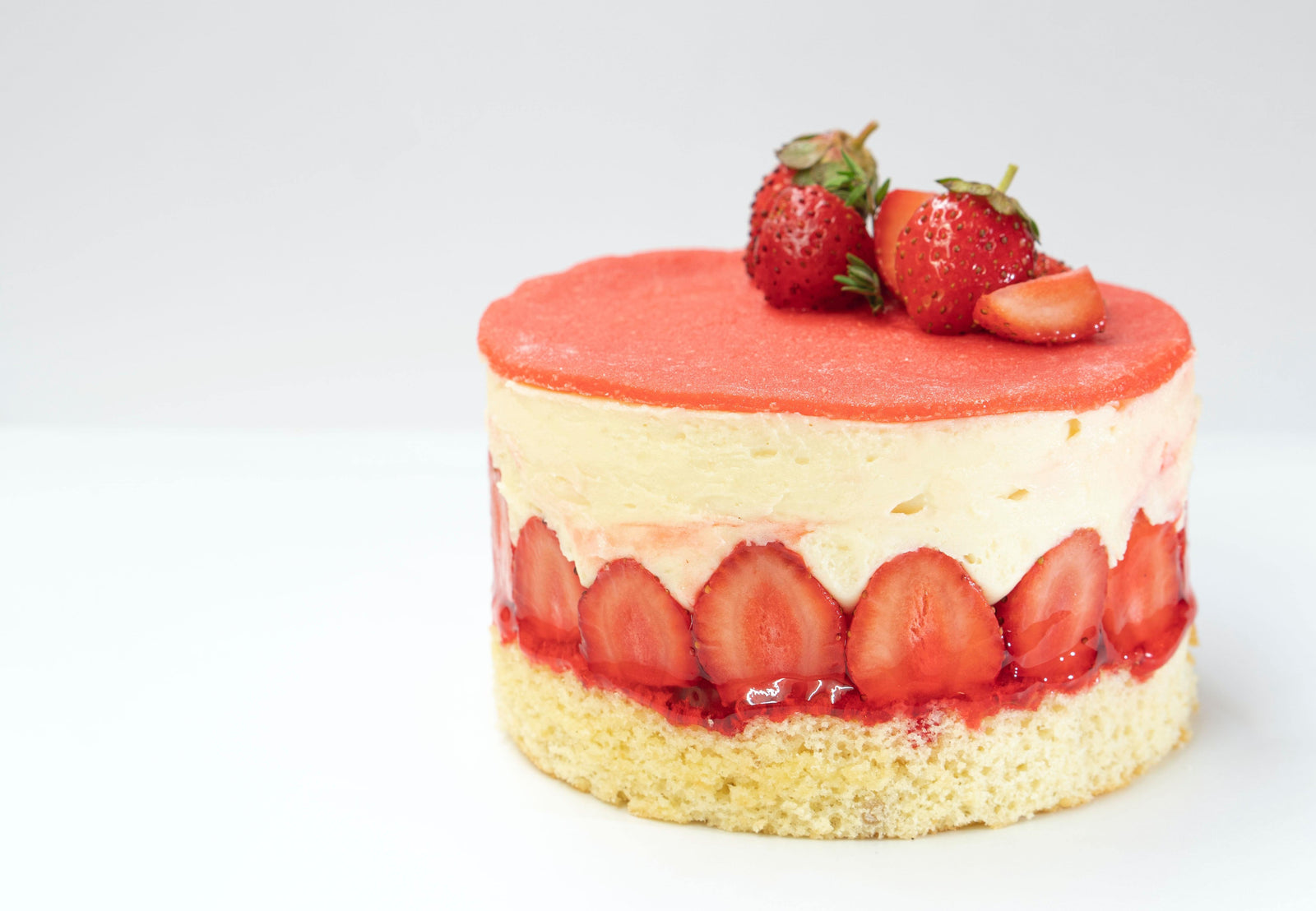 Ready to spoil your kitty on their big day? Making a cat birthday cake is the perfect way to make their birthday a little more special than usual. There are countless great cat-safe birthday cake recipes out there that are fun and easy. 
Let's dive into how to make a birthday cake for your cat, some cat-safe ingredients (and ingredients to avoid), and share some delicious recipes that your cat is sure to love. 
Safe Ingredients for a Cat Birthday Cake
Before we dive into some popular recipes for your cat's birthday cake, let's share some ingredients that are safe for cats as you're baking. It's important to know what you can and can't spoil your cat with on their big day. 
Here are somesafe ingredients that you will likely find in many birthday cake recipes:
Meat -

Of course, cats love meat! They are carnivores, after all. But be sure to use whole protein sources

Fish -

While the idea of a fishy birthday cake might not appeal to you, it sounds delicious for your furry friend

Cooked Eggs -

A great source of protein, especially the whites!

Sweet Potato -

A healthy veggie that adds some good fiber to your cat's birthday cake

Pumpkin -

Another healthy add-in that's delicious for homemade cat treats
All of these ingredients are cat-safe and can be added to most cat birthday cake recipes. Now, let's look at some ingredients to avoid, both on your cat's birthday and every day. 
What areToxic Ingredientsto Avoid forCats?
Some of these goodies might seem good to you, but they are toxic to your cat and can cause serious issues, such as vomiting, diarrhea, and even more serious consequences. Be careful what you feed your cat from the kitchen! Here are some toxic foods for cats:
Dairy -

Some cats can be lactose intolerant so it's important to test only a little bit of mild products before giving your cat a full milk-based cake. Adding a little cheddar is usually safe as a rare treat for your cat. Since cheddars don't contain a lot of lactose. However, it is best to

avoid cheese if your cat follows a low sodium diet

.

Chocolate -

A chocolate cake, while delicious, is toxic to both cats and dogs. Chocolate can cause vomiting, tremors, seizures, and even death. Don't worry; there are other delicious ways you can flavor your cat's birthday cake. 

Alcohol -

You might enjoy an adult beverage on your own birthday, but avoid giving your cat any food or drinks that contain alcohol, as this toxic ingredient can cause serious issues. 

Coffee -

Coffee contains some of the same components as chocolate, making it extremely toxic to dogs and cats. 

Uncooked bread dough -

As you're making your DIY cat cake, make sure it is fully cooked. Yeast can cause gas to build up in your cat's digestive system, which can cause stomach bloating and other issues. 

Raw eggs -

While cooked eggs are a safe ingredient to add to your kitty cake, raw eggs can contain food-borne illnesses like salmonella that can make your cat sick. 
Now that you know more about what you can and can't feed your cat, let's dive into some fun cat-safe birthday cake recipes!
Tired of your home smelling like you have a cat?
15% off PrettyLitter
Try it today
Use code:
PRETTYBLOG 3 Cat Birthday Cake Recipes
We have a few great recipes to share that are sure to please even the fussiest of felines. Here are some of our favorite cat cake recipes!
#1 The No-Bake Fish Cake
Ingredients
15 ounces of canned Albacore tuna

½ cup of Diced cooked chicken

½ cup of Pureed sweet potato

(optional) ½ cup Rice flour 
Instructions
Drain the liquid from the canned tuna and diced chicken

Mix together the chicken, tuna, and pureed sweet potato in a large bowl. 

If your mixture is too watery, slowly add a teaspoon at a time of rice flour to thicken up the mixture. 

Shape the mixture into little round cakes and sprinkle catnip or an unlit candle as a cake topper!
#2 The Meat Cake
Ingredients
1 cup of all purpose flour

4 tablespoons boiled chopped meat of your cat's choosing (beef, turkey, chicken, etc.)

4 tablespoons grated carrot

2 eggs

1 teaspoon baking soda
Instructions
Preheat the oven to 350 degrees

In a mixing bowl, combine the eggs, meat, and carrot and mix until well combined. 

Next, add the flour and baking soda and mix well. 

Pour the mixture in a mold (bonus points if it's themed for your kitty's birthday!)

Bake for 30-45 minutes

Let the cake completely cool and garnish it with catnip, shrimp, or crunched-up cat treats!
#3 The Tuna Cake
Ingredients
1 can of tuna

2 tablespoons of all purpose flour

1 egg white

½ teaspoon shredded Cheddar cheese

( skip if your cat has a low sodium diet)

A shrimp to garnish
Instructions
Preheat the oven to 350 degrees

Combine the tuna, flour, egg white, and cheese in a bowl and mix until combined. 

Fill a muffin cup with the mixture and bake for 15 minutes

Let the cake cool fully before treating your kitty! Garnish with the shrimp and bon appétit! 
How to Make Cat-Safe Frosting 
Cats can't have sugar, but that doesn't mean that you can't garnish your kitty's cake! Many cat parents create a "frosting" using mashed potatoes! Simply put the mashed potatoes into a pastry bag and decorate your cake as you would if it was realicing.You can even add a little food coloring to make it more festive.
In addition to this cat-safe "frosting," you can also garnish your kitty's birthday cake with:
Crunchy treats that are crushed (you could make a fake graham cracker crust for your cake)

Fresh shrimp

An unlit candle
Don't want to make your own cake? These birthday cake kits are so cute and seem to be a hit with reviewers. They even come with frosting!
Why Make a Cake (orCupcakes)for Your Cat's Birthday
It may seem silly, but making dry cat food or a cake for your cat's birthday is a fun way to make them feel special and part of the family. If you're like most cat parents, your cat is your baby. Why not go the extra mile on their big day to make them a cat they love? Plus, feeding the cake to your cat is a great bonding experience and will strengthen the relationship you two have. 
Other Fun Ways to Celebrate Your Cat's Birthday 
In addition to making a homemade cat birthday cake, there are other fun things you can do to celebrate your kitty's birthday. Here are just some of the many ideas!
Choose the perfect present -

You can't have a birthday party without a present (or a few)! Whether your cat loves new toys, new treats, or a new bed to take a cat nap in, you have to spoil your kitty with at least a small present for their birthday. 

Schedule a professional photoshoot -

Sure, 

you probably have hundreds of photos of your cat on your phone, but there's something extra special about scheduling a professional photoshoot for your cat's birthday. Dress the family in coordinating outfits

, invite a

feline friend

,

and hire a photographer for some memories you will never forget.

Give Back -

Another great gift idea is to donate to a local cat shelter in your kitty's name for their birthday! If they have enough toys and treats, put that money to good use and give back to kitties in need. 
Your cat's birthday is a fun way to celebrate together, and baking a cat birthday cake is a great way to treat your kitty while still keeping their health in mind. Choose your favoritecat cake recipe and wish yourkitty a specialhappy birthday!