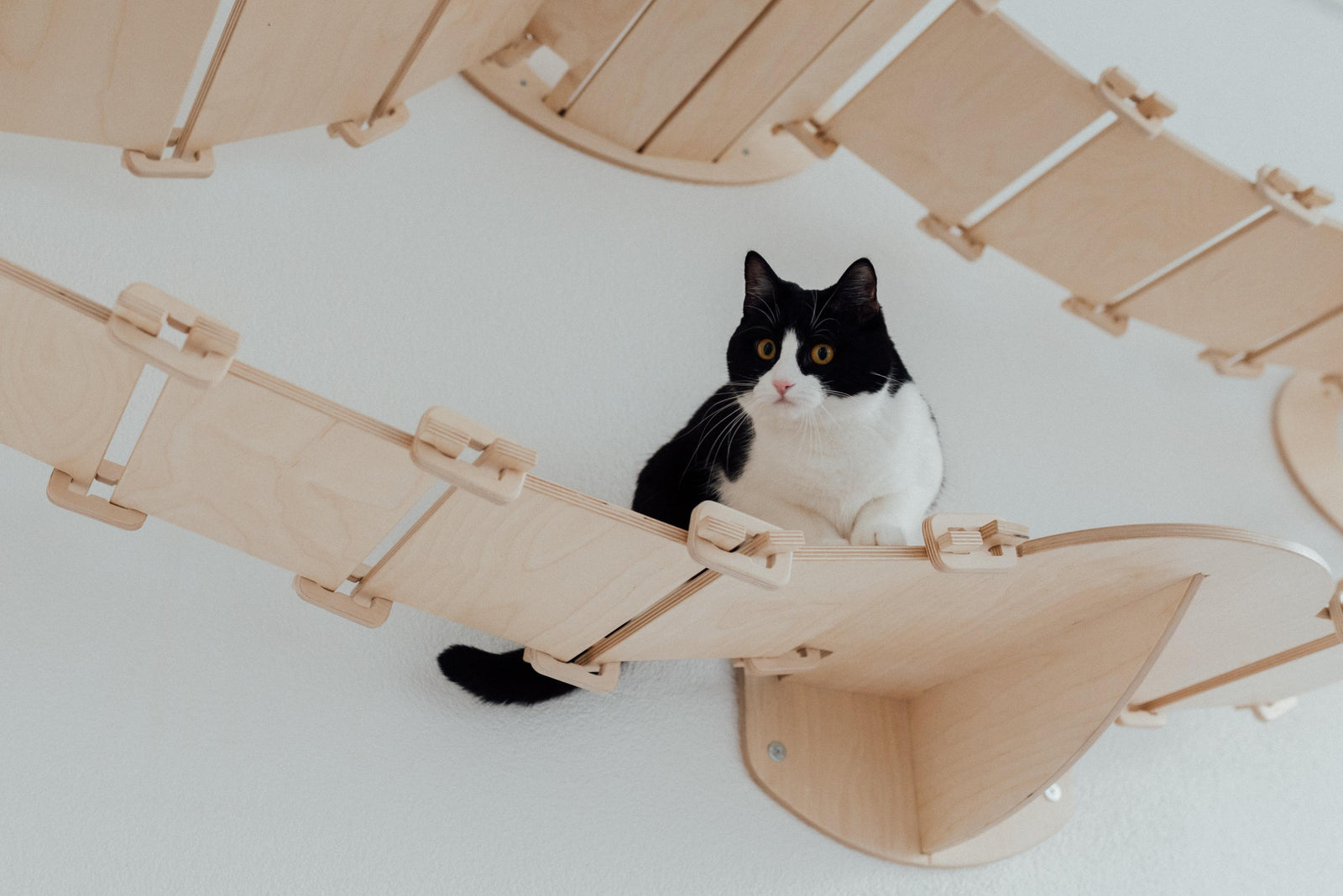 The holidays are quickly approaching and let's face it, so are the packages you ordered from your favorite online retailers. Chances are, your home is about to be packed chock-full of boxes, big and small. So, as acat lover, what better way to celebrate the holidays with your kitty than to build them their very own homemade cat house out of all the cardboard lying around! This is a fun activity to do solo or with your family. Just remember, box cutters should only be used by adults or under adult supervision. Now, let's get started!
What You'll Need:
Cardboard Boxes

Box Cutter

Tape Measure

Straight Edge

Duct

Tape

Hot Glue

Multi-colored Construction Paper

Paint

Markers
Now that you've gathered all the necessary materials needed to build your kitty the homemade cat house of their dreams, it's important to keep in mind that some decorative materials (i.e., glitter or tinsel) should be avoided because they can be harmful to your kitty's health.
Ready to start learning how to make a homemade cat house ? Wonderful!
Step One:It All Starts With a Box
Select the right-sized box that will fit (and, most importantlyhouse) your kitty. Next, cut the flaps off one end of that box. After that, take the box cutter and cut down one of the corners of thecardboardbox. Flip it inside out, and thenuseduct tape to secure the corner back together. Now you have a box free of any graphics or logos your kitty would not want on their dream house.
Step Two:From Rectangles to Triangles
Make sure the box is standing with the flaps faced up. Pick out which of the four flaps will be the front of theindoor cathouse orcat tree and which one is the back. Take out your straight edge and, using a marker, trace a line from the midpoint of the top of the front flap to the bottom corner of the front flat where it meets the side of the box. . Then do it again to the other corner of the front flap. Repeat this for the back flap. Take your box cutter and cut down the lines you just drew. Now the front and back flaps are triangles. Take the other two flaps and tape them to the edges of the front and back triangle flaps. This will reinforce the roof.
Grab another piece of cardboard that will be large enough to fit and cover the top of the box. You may need to outline a large enough rectangle so the straight sides of the roof as flush with the perimeter of the indoor cat house. A slightly larger rectangular than the perimeter is the ideal size for a roof to best resemble a house. Bend it in half and use ahot gluegun to attach the roof to the top of the house.
Tired of your home smelling like you have a cat?
15% off PrettyLitter
Try it today
Use code:
PRETTYBLOG Step Three:To the Windows! To the Walls!
Time to figure out where you want to place the windows and doorway on your kitty's new house! On the front side of the house, use your marker to draw an outline of where the doorway should go. Then follow that outline with a box cutter to create the full doorway effect. Next, in the same manner, draw and outline where on the sides of theindoor cat house you'd like to add the windows. Design the window frames in whatever style you desire (they don't have to be rectangular if you don't want them to!) Next, cut those window shapes out with your box cutter. 
Step Four:Unleash Your Inner Designer
Unless you want your cat's new homemade vacation home resembling a gingerbreadcardboard cat house, which is basically how we've designed it so far, use your creativity to paint it whatever color you want. Maybe it's not a gingerbread house, but instead, it's a haunted house painted with dark colors? Or perhaps it's blue… (move overBear in the Big Blue House, it'sKitty in the Small Blue House's time to shine now!) 
You honestly don't even need to useacrylicpaint to decorate it! For example, you can take red construction paper and cut smaller rectangles out of it to resemble bricks. From that, you can then construct a kitty firehouse with some hot glue and those "bricks" cut out and hot glue "shingles" for your roof from the construction paper. 
If you're sticking with the gingerbread house vibe, usevariouscolorful ones and cut out ovals to create a gumdrop illusion. If you've gone the haunted house route, use black construction and cut out sharp, jagged-looking rectangles and triangles to give your houseorcat condo a spookier and more haunted feel. If you decided to rebootBear in the Big Blue House asKitty in the Small Blue House, youcoulduse brown or tan construction paper to create shingles that look like those you can find on any house in the suburbs.
And for the finishing design touch, cut out a sign with your kitty's name on it and place it on the top of the house, and voilà, your kitty's new homemadeDIYcat shelter is complete!
PrettyLitter Pro Tip! Creating and designing a homemade cat house should be a fun and stress-free activity, so let your creativity and have a blast making your kitty a home they'll love no matter what.