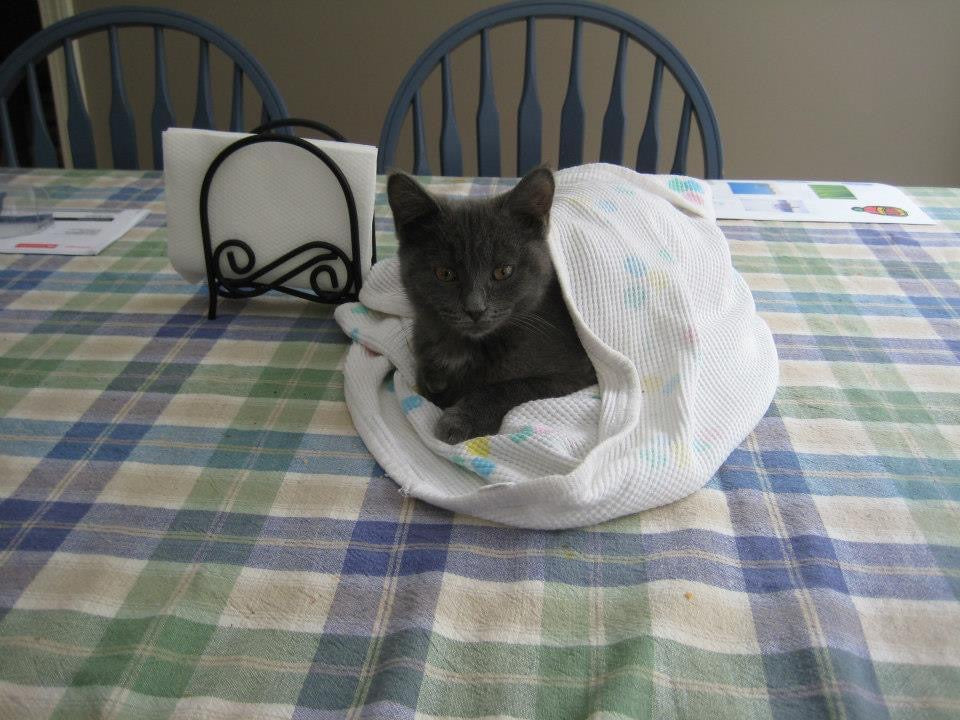 We talked to PrettyLitter subscriber Karen M. about Princess Leia and here's what they had to say:
Princess is a rescue cat, whom we adopted from the local Humane Society in Nashua, NH in 2013. My son (aged 10 at the time) had recently lost his hamster (poor Rex passed away) so we were looking for another pet.  
My husband doesn't really like cats, but we worked on him and worked on him and he finally agreed. It was still winter and a difficult time to find kittens (apparently there is a "kitten season", and winter isn't it). My son checked the Humane Society website multiple times per day, until we saw some sweet little gray kitties for adoption, and we zipped right over. I picked Princess because she has double paws! My son, a huge Star Wars fan, named her.
She's been with us for eight years now and we love her. She is very independent, yet sleeps beside me every night! She loves hanging out in her kitty condo, playing with ribbons and bows, begging for treats, and relentlessly teasing our two dogs. She is very pretty and her fur is super soft.
One Fun Fact About Me:
I'm a teacher and I use Princess Leia as the star in the educational videos I make called Cat Math, which I post to my YouTube channel, Pets Teach.
Princess Leia's Favorite Pastimes:
Sleeping! And eating treats.
Most Mischievous Behavior: 
Jumping up, wrapping her arms around the door jamb, then dragging her claws down the walls as her body slowly falls to the floor. 
If your cat could have one thing unlimited for the rest of time, what would it be?
Party Mix!
Thank you for sharing your story, Karen and Princess Leia!
Curious about the revolutionary litter that's giving these cat parents real peace of mind? Try PrettyLitter today!