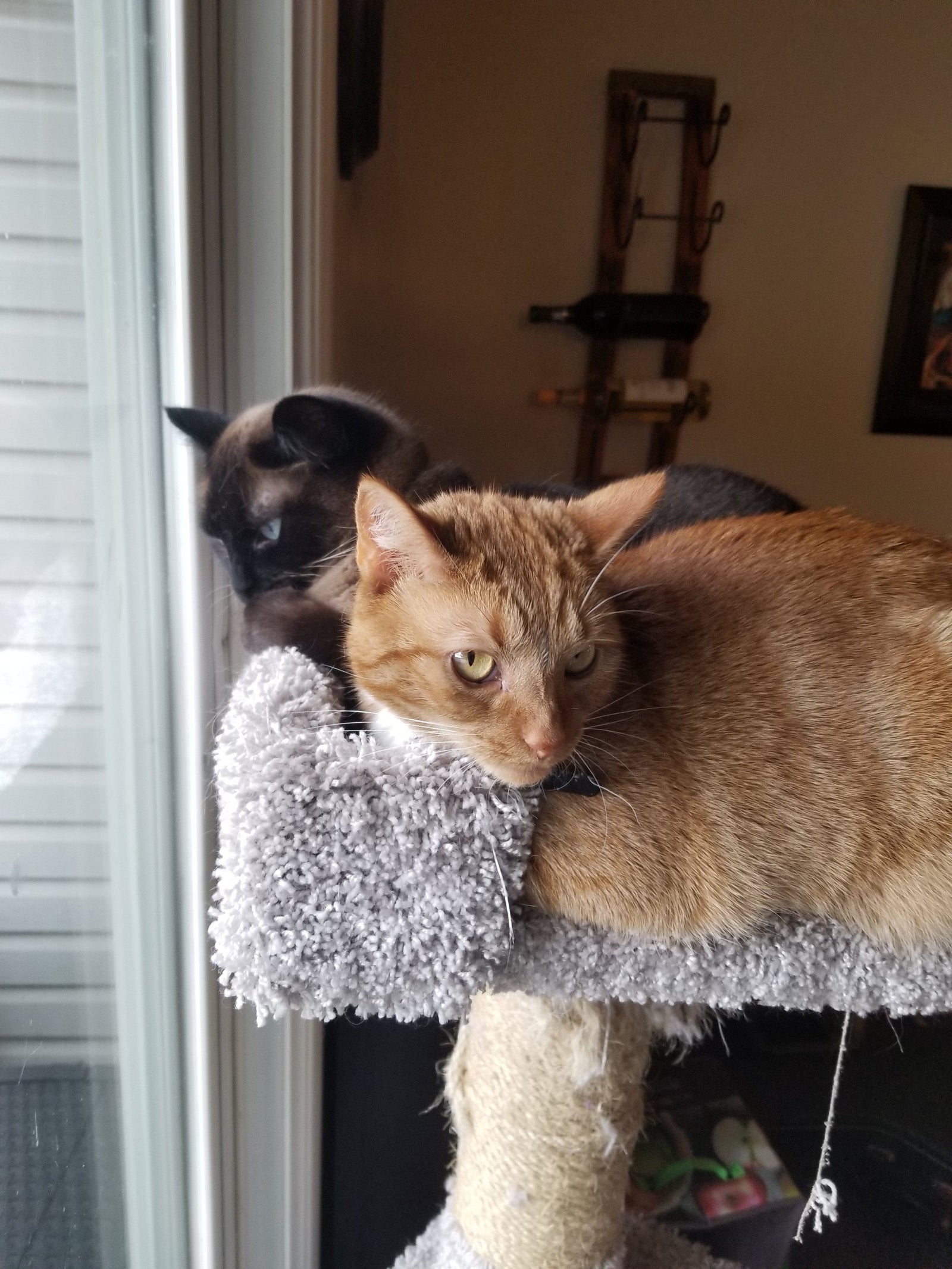 We talked to PrettyLitter subscriber Kimberly M. about Kit Kat and Karamilk and here's what they had to say:
After my husband passed away we had to move to a smaller home and give our dog to a friend who had way more room. 
Once we moved into our townhouse, it was feeling empty without a pet in it. I heard that the Edmonton Humane Society had too many cats and some were in the pet stores, so we ventured to the local pet store and there were a bunch of older orange kittens.  Kit Kat was sitting there and as soon as we opened the cage, she rolled over for us to pet her. I knew we wouldn't leave without her.  
She became my cat, though. She would only sit on me and follow me everywhere.  She really helped with the grieving process because she was very attentive to my emotions and ran over every time I felt sad.  She also made sure I put my phone down so that I would pet her.
While Kit Kat was wonderful, my youngest was feeling like he wanted a cat that would come to him.  So we visited the Humane Society a few times and one day we went because he just wanted to pet some cats.  But hiding in the shadows was Sasha aka Karamilk.  As soon as my son started talking to her, she would answer back. I knew he already fell in love.  She had some skin and fur alopecia from stress, but she was still beautiful and wasn't cat reactive. That was important as Kit Kat was a scared kitty.  We couldn't take her that day because her incision was infected, but a week later they released her to us. Within a week, she started growing new fur and became the boss of the house. It took a few months for Kit and Kara to be completely comfortable together, but now we are all a family.
One Fun Fact About Kit Kat and Karamilk:
If I'm sitting or sleeping, Kit Kat is on top of me wanting two-handed pets. Karamilk is my silly, cross-eyed siamese kitty.
Kit Kat and Karamilk's Favorite Pastimes
Kit Kat's favorite pastime is stealthy and quiet roaming of the house. She doesn't make a sound until she finds a ball or marble to drop down the stairs.  Karamilk's favorite pastime is hiding in the curtain to watch outside or hiding under the covers and teasing her sister. 
Kit Kat and Karamilk's Most Mischievous Behaviors
Kit Kat's is dumping cups of water or stealing food.  Karamilk's is pushing you out of bed to feed her.
If your cats could have one thing unlimited for the rest of time, what would it be?
Kit Kat would want ball toys and for Karamilk, fluffy toys. 
Thank you for sharing your story, Kimberly, Kit Kat, and Karamilk!
Curious about the revolutionary litter that's giving these cat parents real peace of mind? Try PrettyLitter today!