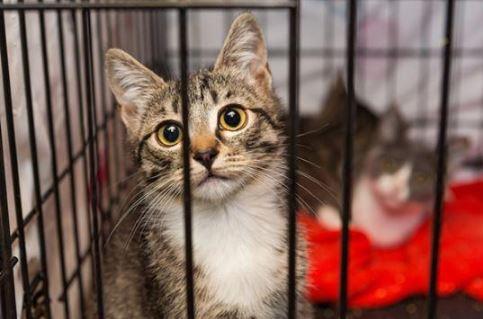 During the season of thanks
and
giving, we'd like to tip our hats to some of the best pet rescue and charity organizations around the country.

Charitable pet rescue organizations go through rigorous regulations and governmental requirements in order to operate as non-profits. At the same time, they rely on the generous donations of animal lovers to fund their good works. 

These groups are giving their time, resources, and love to cats in need; and you can get into the Thanksgiving spirit too by donating, volunteering, or adopting a rescued cat or kitten.

Here are a few pet rescue organizations you may not know about. Check out the incredible impact they're having around the nation.


Alley Cat Allies
Based in Bethesda, Maryland, Alley Cat Allies believes that every feline life is worth saving. Not only does Alley Cat Allies rescue cats and help them find safe shelters until they're matched with their forever-families, but also the organization is dedicated to reforming the animal shelter industry.

While it's nice to think that all pet rescue organizations are saving feline lives, the harsh reality is that many shelters still euthanize cats they don't have room for or can't adopt out. Alley Cat Allies is working to reduce - and eventually eliminate - kill rates, while also advocating for humane policies to be put in place to save more four-legged lives.


For example, the group is working to:
Improve public records for animal intakes and where the animal is placed

Increase public and government oversight on kill rates

Improve the accountability of pet rescue shelters and pounds

Support groups and organizations that provide humane care for stray and feral cats

Educate the public about ways to end euthanasia in shelters and pounds
To learn more about Alley Cat Allies or to donate, visit their website
here
.


American Veterinary Medical Foundation
The American Veterinary Medical Foundation is the charitable organization associated with the American Veterinary Medical Association. The AVMF and AVMA are dedicated to advancing veterinary science to improve the health of animals and the humans who love them so dearly.

And you know us – at PrettyLitter, we're all about the science.
The AVMF runs several pet rescue programs and health initiatives every year.
Their current programs include:
Support for military veterans

The Veterinary Care Charitable Fund

The Our Oath in Action outreach program
If you'd like to help support the sciencey side of cat-loving non-profit world, check out the
AVMF
to get involved in one of their incredible programs.


Best Friends Animal Society
Founded in 1984, Best Friends Animal Society has had one of the biggest impacts on pet rescue efforts around the country. In fact, BFAS has helped to reduce the number of pets killed in animal shelters in the United States by 91 percent since they began their work.

As just one of their many initiatives, the Best Friends Animal Society provides a sanctuary near the Utah-Arizona border for abandoned pets. Plus, there are nearly 2,000 no-kill pet rescue groups in the BFAS's No More Homeless Pets Network.


With a slogan like "Save Them All," it's no wonder that the organization's overarching goal is to make every single pet rescue shelter and pound in the U.S. a no-kill shelter by 2025.
Last Chance for Animals Pet Rescue
With an overall rating of 98.23 out of 100, Last Chance for Animals is one of
Charity Navigator
's highest ranked pet rescue groups in the United States.
Based in Los Angeles, California, Last Chance for Animals is wholeheartedly devoted to ending animal suffering and exploitation. In fact, in 2017, Last Chance for Animals ran 15 undercover investigations to uncover and stop the unethical treatment of animals.

With nearly 90% of the funds Last Chance for Animals receives in the form of grants and donations going to their pet rescue programs, the organization has had one of the biggest impacts on animal welfare in the country.
We know there are
so many
incredible pet rescue and cat charity organizations out there. Tell us about your favorites in the comments below! Together, we can all give more love and support to the animals who need help every day.
----
Don't forget to follow us on Instagram: @prettylittercats
----
Delivered straight to your front door, every month. We'll even pay your shipping.
For a limited time only, get 20% off your first PrettyLitter order. Enter code "LOVE20" at checkout. Redeem Now!