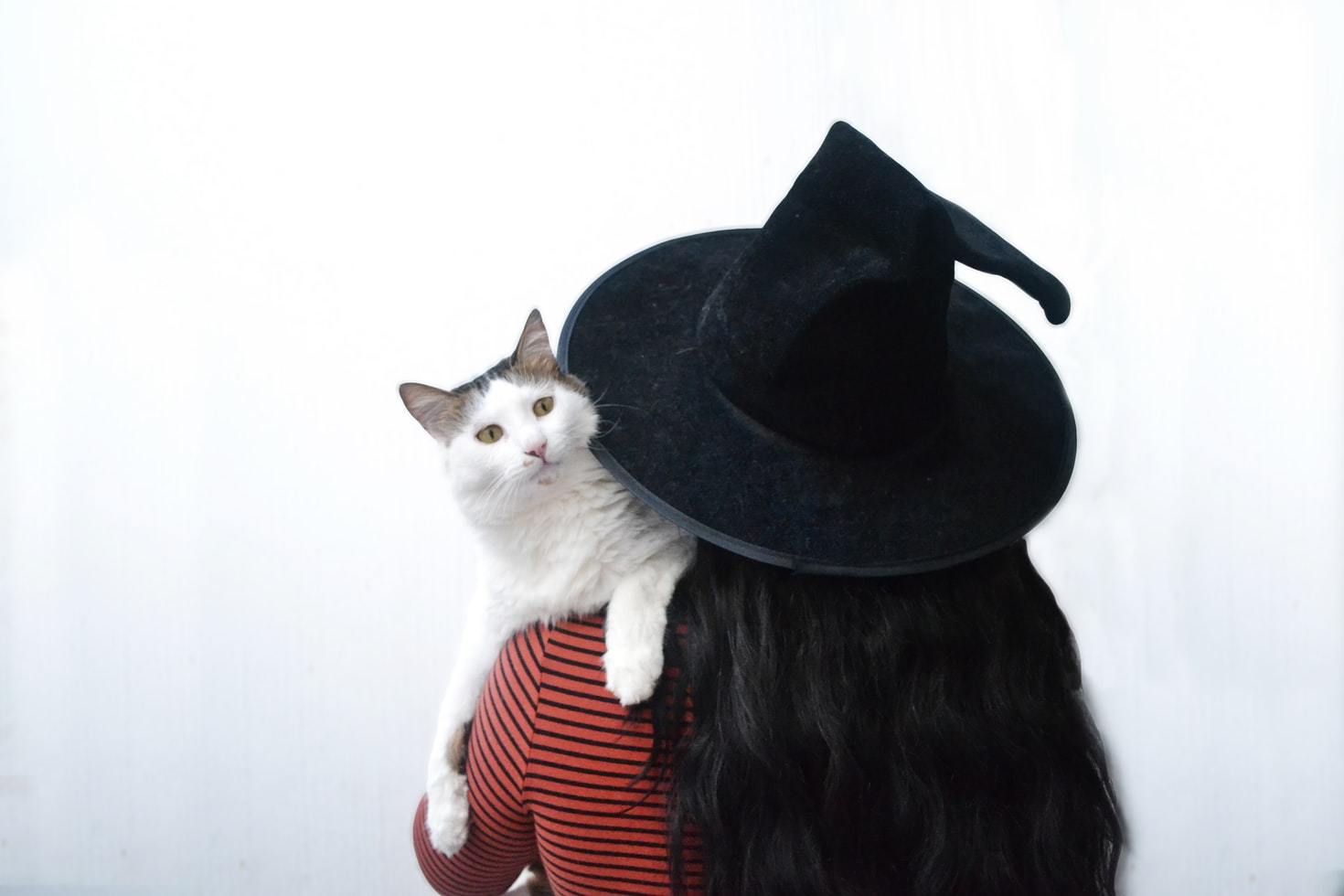 Every holiday is an opportunity to spoil your furry friend, that's why we're here with our favorite Halloween cat toys.
Let us be your guide to the best and spookiest cat Halloween toys, with DIY cute toy options so you can save a little cash—perhaps to spend on kitty halloween costumes?
Catnip Pumpkin Toy
Want to get your cat riled up just in time for Halloween hijinks? Why not pick them up a pumpkin full of that oh-so-special catnip toy or, better yet, make one yourself.
All you need is:
Catnip from your local pet store or order online

Some cotton stuffing

Orange fabric or yarn

A needle, thread, and a pair of scissors
Then find a comfortable spot and follow our step-by-step process. Maybe try to work somewhere your cat can't get to—they might try to help, but their paws aren't great for DIY projects.
Cut A Circle

– Cut a circle out of your orange fabric. The diameter should be about the width of your hand. 

Sew Around The Edge

– Tie a knot one one end of the circle and create a large stitching pattern around the perimeter of your circle to seal the cut edges. Once you've made it back to the start of the circle, put the needle through that first knot.

Stuff The Cotton and The Catnip

– Place your cotton balls and catnip into the center of the circle, then start pulling up on the needle and thread. You'll see your circle pull into a perfect little ball.

Stitch It Up And Play

– Thread the needle through the bunched-up fabric to steal the top opening, stitch it shut, add a little brown felt on top as a stem. Now you're ready for kitty playtime with your very own homemade catnip toy.
Floating Ghost Toy
If your cat is a scrapper, a scamp, or a whippersnapper, there are few toys more fun to play with than the classic stick/string/bait combo. Let your kitty bat at a ghost this Halloween with a customized specter on a stick cat toy.
If you're a little unclear with what stick/string/bait means, we'll break it down for you fellow cat parents:
Stick

– Wood, plastic, metal—heck, you could pull one off a tree if you really needed to. Whatever the material, it needs to be sturdy enough to take a rough and tumble cat and easy enough to hold so that your cat doesn't just pull it out of your hand.

String

– Whether you're using some industrial rope or some high-grade dental floss, you're going to want a durable string to attach to your stick. Something that won't snap while your cat is pulling it with all their feline might.

Bait

– Tease your cat with something they can bite into, twist around, and bat at with immeasurable pleasure. This Halloween night, we recommend a ghost made out of soft fabric and stuffed with cotton. Attach the bait to the string, and you've got the equivalent of a kitty fishing pole.
Spooky Spider Toy
Creepy, crawly, and an absolute blast, a spooky bat cat toy will have your cat entertained for hours this Halloween, and there are a couple of variations to choose from.
The Plushy Bat

– Much like other plushy toys, the plushy bat is stuffed, soft, and perfect for your cat to carry from room to room like a trophy. Plus, we know fetch isn't just for dogs—throw your plushy bat across the room and see if your feline friend might just bring it back. 

Can of Nip Spider

– Recycle your old cans of cat food into a spooktacular toy for your cat. Fill an empty can with catnip, wrap it in black duck tape, poke a few holes, add some felt legs, stick on some googly eyes, and presto—you're scaring your friends and entertaining your cat all at the same time.
Tired of your home smelling like you have a cat?
15% off PrettyLitter
Try it today
Use code:
PRETTYBLOG Avoid The Truly Scary Stuff With Pretty Litter
Now that your furry friend is ready for the scariest Halloween night, give them a litter that won't keep you up at night.
PrettyLitter eliminates odors, avoids messes, and is shipped straight to your door, so there's no fear about running out. Plus, the color-changing silica litter is designed to catch health problems early, so you can keep your cat healthy and happy through all nine lives.
Check out PrettyLitter today, and you'll receive a free bat toy with your purchase—just the thing to go with a cat-sized witch's hat! For more information on how to celebrate this upcoming Halloween, visit PrettyLitter for some tips on DIY Halloween Cat Treats. 
Looking to show your furry friend a little more love? We've got you covered with these helpful guides to a cat massage and other common concerns like, does catnip help my cat sleep? Whether you're looking for advice concerning your cat's health or something more festive, PrettyLitter is here to help. 
Sources: 
Life With Pets.Catnip pumpkin: easy DIY halloween cat toy.https://www.rufflesnuffle.co.uk/catnip-pumpkin-easy-diy-halloween-cat-toy/#Instructions 
Kicking It with Kelly.
DIY Halloween homemade cat toy tutorial
.
https://kickingitwithkelly.com/home/pets/diy-homemade-halloween-cat-toy-tutorial/