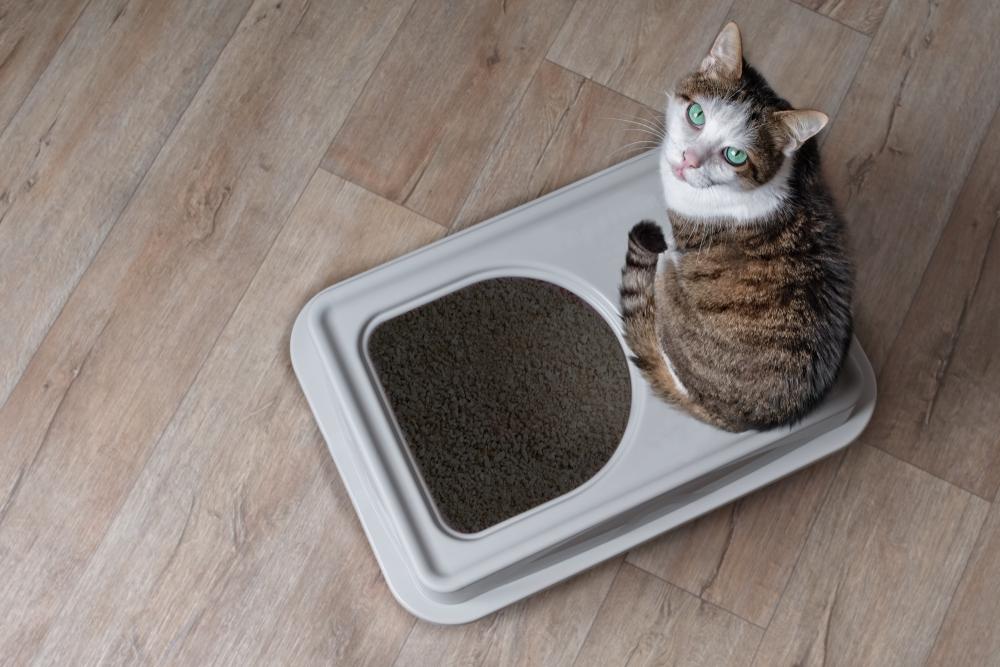 While a cat may look cute in your home, most people can agree that a litter box isn't the most appealing part of the house, especially when it comes to scent. However, with a few DIY touches you can turn your furry friend'slitter box area into a much cleaner and more appealing part of your home. Read on to learn about the top 10 DIY litter boxes and cat litter boxcleaning hacks!
#1 The Top-Entry Litter Box
Top-entry litter boxes are a great mess-free and relatively cheap option when it comes to DIY litter boxes. A top-entry litter box holds the litter in a confined space, keeping your kitty from tossing thelitter waste around and scattering it throughout the room.If you have searched on end for ways to avoid cat digging in litter box containers, this is a great solution!
You can create your own DIY top-entry litter box with a storage bin of your choice. All you will need aside from the plastic bin is a plate to trace a circle opening and a heavy-duty pair of scissors that are strong enough to cut through the plastic. Once you have cut out the top opening, begin to fill your litter box with your favorite kitty litter. After you have filledit with fresh litter, put the top on and set it in a location of your choice. Putting the litter box in a more prominent place will make both your life easier, and your furry friends' as well! 
#2 A Hidden Dresser Litter Box
If you prefer a more hidden litter box that matches the aesthetic of your home, consider a DIY litter box cabinet. This type of kitty litter box is an excellent option if you want the litter box to remain out of sight and instead fit in with the decor of your home. 
With this type of a DIY hidden cat litter box, you will want to either thrift or purchase a dresser in your style. Once you have a dresser that matches the look you want, you can begin to remove the dresser drawers and glue the face of them to a piece of plywood. From there, you can hinge the plywood onto the front, allowing easy access when it comes to cleaning your litter box. On both, or either side of the dresser, insert a small cat door for your furry friend to hop in and out of as needed.
Similar to the top-entry litter box, a hidden dresser repurposed as a litter box cabinet is also a great way to contain the litter in one space. Besides the aesthetic benefits of a cat litter cabinet, the pet door and the plywood keep the litter box odor and cat litter dust to a minimum. 
#3 The Trunk Litter Box
Another option for a resourceful and relatively hidden take on a litter box for your home is a trunk litter box. If you already have a trunk that's not getting much use, you would be surprised by how great of a hidden litter box it can make. On the other hand, if you don't have a trunk, investing in an inexpensive one can be a great way to create anew piece of litter box furniture for your furry friend. 
Similar to the hidden dresser, you can cut out and add a small pet door to the back side of the trunk, allowing for easy access for your cat. On the inside of the chest, place a removable storage bin and fill it with clean litter. The top of the trunk allows you to easily change thesoiled litter while also keeping anylitter box odor within the confined space.
#4 DIY Sifting Litter Box
A useful and cheap litter box hack is a DIY sifting litter box, which makes cleaning much less of a hassle. To make a DIY sifting litter box, you will need two storage boxes of the same size. From there, drill small holes (4-7mm each) across the bottom of one of your storage boxes. Once you have drilled all your holes, you can put that litter box to use! Simply place the storage boxwithoutholes on the bottom and place the storage boxwith holes stacked on top.
This works great for cleaning litter waste because instead of scooping up the clumps, all of the litter will sift through the holes when you lift the top litter box. This method will leave you withdirty litter clumps that you can throw away.
#5 A Cat House Litter Box
If you love to pamper your feline friend and want to create a fun DIY litter box, creating a cat house litter box is a great option. Don't be afraid to get creative when it comes to designing your cat house litter box. You can create a wooden dollhouse type structure or even use random items around your house to build the ultimate litter box house. With that said, some fun ideas include a cat lounge or a cat castle. Give your cat a little home to do its business. Not only will this be a fun project from start to finish, but the result will leave you with a cute take on your average litter box.
#6 The Modern Litter Box
If the style of your home is more contemporary, you can opt for a modern DIY litter box. Here, you can use plywood to create a simple and modern looking litter box that won't break the bank like some of the more chic and contemporary litter boxes typically do. Check out this modern litter box that you can build right at home! You can also get creative and use wood stain to attain a wood color that best suits your home's aesthetic. 
#7 A Laundry Room Litter Box
If you have a laundry room, this is a great space for you to place a DIY litter box. Not only is the laundry room out of sight for the most part, but it is also a good space to keep a litter box if you have other pets. Whether your laundry room is a full-sized space or tucked away in a closet, creating a drawer or confined space for the litter box with a little door for your pet to access it is a great option.
However, you will want to be sure to use an odor-free or odor-reducing litter formula such as PrettyLitter, especially in the laundry room, tomaintain a fresh smell in this area.
#8 An Ikea Hack Litter Box
Comparable to the modern litter box and the hidden dresser litter box, using an Ikea hack to create an easy-to-clean litter box for your cat is a great way to keep it simple. Since Ikea furniture is typically minimalistic and easy to set up, you can choose from a variety of cabinets and furniture to create a DIY litter box. Need more insight on how to turn Ikea furniture into a litter box? Check out this DIY Ikea litter box hack made with the Faktum wall cabinet.
#9 A Hallway Litter Box
When considering the location of your cat's litter box, you may want to place it in a hallway. Using any of the above litter boxes, you can make the litter box of your choice fit into a snug corner or place it along the wall of your hallway - completely disguised. Since hallways are simply for passing by, these spaces act as a great area to keep an undercover litter box as they are not a part of your essential living spaces. Keeping a litter box in your hallway will be sure to prevent the sometimes not so lovely smell of a litter box from places where you spend the most time, such as the living room and bedrooms. 
Be sure to use an odor-free or odor-reducing litter formula such as PrettyLitter, especially in the hallway, to keep this area smelling fresh. 
#10 The Bookshelf Litter Box
Lastly, another sleek option when it comes to litter boxes is a bookshelf litter box. Not only is this a resourceful option, but it also can be designed however you'd like. You can choose to turn one of the shelves into a litter box area, ideally the lower shelf for easy access to both you, when cleaning, and your cat, when doing their business. However, you can also use the rest of the bookshelf space for home decor or even turn it into a play area for your cat.
It Looks Good, Now Keep it Smelling Good
Now that your cat's litter box looks good in your home, you'll want to be sure that it smells good too. The key to this is knowing when to change cat litter, tidying the surrounding areas, and using high-quality cat litter. But, how can you tell one formula apart from another when it comes to purchasing quality cat litter?
When it comes to quality cat litter, PrettyLitter is a monthly litter subscription that provides lightweight, odorless, and health monitoring "smart" litter. This health monitoring litter allows you to become more aware of your feline friend's health as it highlights potential health issues on the rise. By using a color-changing formula, thesoiled litter's color will highlight issues ranging from urinary tract infections to bladder inflammation, among various other health complications, such as excessive drinking in cats. In doing so, you can address the problems right away and further avoid any excessive and unnecessary vet bills.
Sources: